Welcome to the Sinister Developments Homepage

Sinister Developments have been creating arcade games for the Atari ST computer range and the Atari Jaguar 64bit Multimedia Console since 1990. Find out about our latest Jaguar projects or visit the Atari ST pages to find information and downloads for our popular range of arcade conversions.

** Latest News **
** 8th August 2004 News **
The Unencrypted version of Painter for Jaguar CD has now sold out. Once I complete some changes and enhancements, it will be re-released as an Encrypted CD. Watch this page for further updates.

** 2nd April 2004 News **
This isn't a late April Fool. I have decided to make the Painter Source code free to download. It'll probably torture people more than game ever did, so, that's got to be a good thing, right! Anyway, hop over to the Development Section and download away. Happy Coding. Oh, and if you didn't already know, if you press OPTION & * together on the title page of Painter you get to play with the 3d ball objects on the menu.
** 27th August 2003 News **
There is a new section called Jaguar Development. Here I have made available the Sinister Developments Music and Sound Effects library, which is free to download and use in your projects. I have also decided to make the complete source code for Painter available for purchase. Please see the development section for more details!
** 26th August 2003 News **
The JagFest edition of Painter is now sold out. We still have the general release version available that has the added bonus Slam Racer intro and game beta. If you already have the Painter general release version, go to the password screen and use the joypad to enter SLAMRACE and the intro will load from CD.

Painter was reviewed at www.ataritimes.com in the last day or so. Go check it out.

** 18th August 2003 News **
It's only been 1 week since Painter was released in Las Vegas. We still have a few copies of the JagFest edition left, so if you wish to purchase one of those few remaining copies (only 50 made, individually numbered). Please order it as if it were a General Release copy and say you want the JagFest edition in your order.
** 8th August 2003 News **
Painter is finally released into the wild. Tomorrow at JagFest @ Classic Gaming Expo 2003 in Las Vegas, Painter for Jaguar CD will be shown to the public and be available for purchase. There are 2 versions of the CD available, the first version is a limited run of 50 numbered copies which is the JagFest version. The normal non limited release is also available from tomorrow. Orders for the normal version can be placed through this website via PayPal or by US Money Order to our postal address listed below. The price will be $25 + shipping (see product page for more info).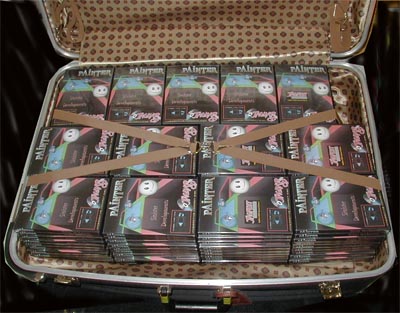 Painter Goes To Vegas !

Contact Information
Webmaster: sinigord@hotmail.com

The Atari Console Developers WebRing is owned by JustClaws.
Previous 5 Sites Previous Next Next 5 Sites Random Site List Sites